On next October 25th, 2023, from 8:30 to 10:00, we invite to join the free webinar with Aurélie Moser from BAMBOOSTER.
For sure you'll go home with a lots of new ideas on how to value your proposition. We help you boost your innovation potential to create, prototype, and test new solutions.
Aurelie Moser
, from
Bambooster
, helps leaders and teams apply the principles and practices of
business agility, innovation and self-organizing teams
to transform business and organizational design and culture.
She will be joining us during this workshop to help us discover the tools around the value proposition.
Your challenges:
You feel you or your team are too focused on the technology
Your customers don't "see" the full value of your services
You deal with a complex ecosystem internally (in your company) or externally with partners, budget holders, decisions maker
You perceive you don't capture the full commercial value of your ideas
After 1.5 hours you will have :
A step-by-step guide on how to look at your ecosystem
A hand on exercise on how to craft better value propositions for each of your main customers or stakeholders
An actionable framework to help you run similar sessions with your teams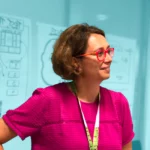 Aurélie Moser, de Bambooster, aide les dirigeants et les équipes à appliquer les principes et les pratiques de l'agilité de l'entreprise, de l'innovation et des équipes auto-organisées pour transformer la conception et la culture de l'entreprise et de l'organisation. Elle nous accompagnera pendant ce workshop pour nous faire découvrir les outils autour de la proposition de valeur.
Vos défis :
Vous avez l'impression que vous ou votre équipe êtes trop concentrés sur la technologie
Vos clients ne perçoivent pas toute la valeur de vos services
Vous avez affaire à un écosystème complexe en interne (dans votre entreprise) ou en externe avec des partenaires, des détenteurs de budget, des décideurs
Vous avez l'impression de ne pas saisir toute la valeur commerciale de vos idées
Après une heure et demie, vous aurez :
Un guide étape par étape sur la façon d'examiner votre écosystème
Un exercice pratique sur la façon d'élaborer une meilleure proposition de valeur pour chacun de vos principaux clients ou parties prenantes
Un cadre d'action pour vous aider à organiser des sessions similaires avec vos équipes.
Inscrivez-vous dès à présent ici
La participation est gratuite, mais nécessite votre inscription pour les envois du lien au webinar.
« * » indique les champs nécessaires